The model has been scrutinized for utilizing the psychological issue to refer to moody people.
Model and TV moderator K Naomi (Keitumetse Naomi Noinyane) has experienced harsh criticism for saying that she abhors bipolar individuals.
In the offending tweet, which was posted just after 1am and has since been deleted, K Naomi tweeted: "I hate bipolar people… You can't always switch up, choose your vibes and be about them."
She immediately began trending during the early hours of Wednesday morning and was met with anger from people who had been diagnosed with some or other mental disorder as well as their friends and family.
I would be lying if I said I wasn't offended. @tnvenge is right. As a person who is going through the worst kind of depression & anxiety, I am angry at what she said. Those kinds of tweets can be so triggering & can lead to worse tragedies but sound off K Naomi. https://t.co/eK3zy81r0M

— Ayanda (@AyandaTankiso) June 19, 2019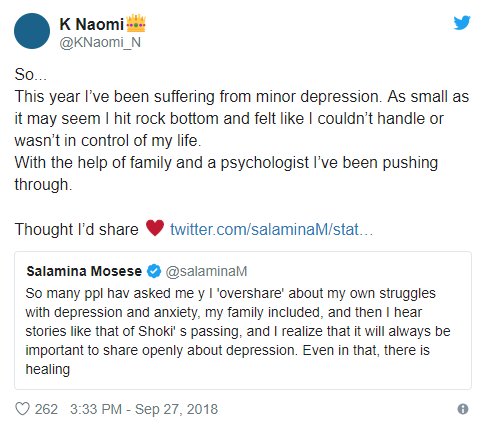 When K Naomi was suffering from depression, nobody told her to "choose her vibe". She got the help she needed.

Whether or not she was referring to bipolar disorder, this tweet was insensitive and hurtful to anyone suffering from the mental illness. https://t.co/yFODhvMfqe pic.twitter.com/c42PdznufT

— Tinashe Venge (@tnvenge) June 19, 2019
For someone who has battled with depression… This bipolar tweet ain't it K Naomi pic.twitter.com/SkP8ic6CNO

— Comfort Tshabalala (@Ms_Comfy) June 19, 2019
Her tweets even solicited a response from the South African Depression and Anxiety Group (SADAG).
As a person who suffers from bipolar, this tweet is not only disappointing but it also shows that more awareness needs to be done about the illness because a person of your caliber should know better. @MasekoValencia @TheSADAG @AdvocacySAMHAM @HRC @HealthZA @Official_SABC1

— Charlotte Mavimbela (@CharlotteMavim1) June 19, 2019
She later apologised but not before she became South Africa's number one trending topic on Twitter.
While many understood that she was using the word bipolar in reference to people who are inconsistent and moody, they still took offence with her callous use of the word as a substitute.
https://twitter.com/KNaomi_N/status/1141252023553339392
Sincere apologies 🙏🏽♥️

— K Naomi👑 (@KNaomi_N) June 19, 2019
Some even used the conversation to teach others to use the right words when it comes to mental disorders
The point isn't that K Naomi hates the mentally ill, it's that Bipolar means one thing, and using it to describe someone "Inconsistent" undermines real people with Bipolar. Same way a lot of you like saying you're "depressed" when you're mildly sad. There's so many other words. pic.twitter.com/Q88Gdk5Mcu

— big head (@SlooPhaho) June 19, 2019
When contacted for comment, K Naomi apologised once again and admitted that she used the wrong words to get her point across.
"I'm so sorry to everyone I have offended with my tone-deaf tweet on bipolar and persons affected by the illness. My comment was not meant to offend, but rather to vent about people I found to be moody and inconsistent towards me. I used the wrong descriptor to carry my point across and for this, I am extremely sorry."
She also addressed her own struggles with mental health.
"As someone who has suffered from depression, I know too well the difficulties experienced by persons suffering from mental illness. I regret offending everyone and I do agree that some education on my part is necessary. I'm sorry."